2021 has arrived. The priests and people of Peter and Paul Chapel wish you and yours a happy, healthy, and blessed New Year. See our Congregation's
January 2021 Bulletin available
in third column to right.
The best way we can celebrate Christ's love for us as we celebrate his birth, is to show our love for Him by showing love for our neighbor. In this COVID-19 mess we show our love of family and neighbor by doing as we are directed by our elected officials as informed by medical science: limit our excursions out from our homes just to necessities; to wear masks when we do go out; and to keep the social distance from each other when we are out and about. Being followers of Jesus requires that we respect our neighbor and we do what we can for the Common Good of everyone. God bless each one of us; our families, and our Nation. Remember to pray, too, for those who are risking their lives daily to help us during these difficult times.
Due to the COVID-19 Virus Pandemic, for the safety of our congregation and guests, all in-person worship services
are canceled until further notice on this website.

Sts Peter and Paul Chapel
Creve Ceour, Missouri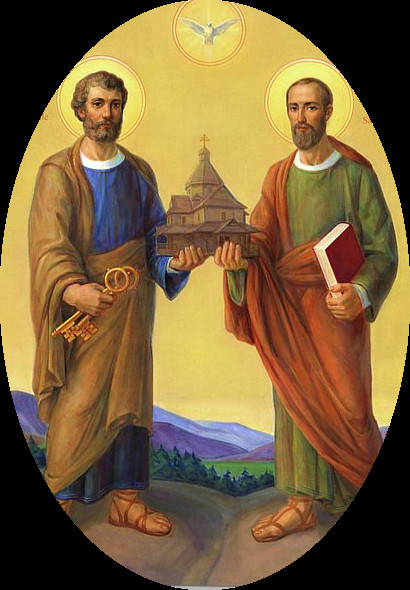 Welcome to our website; we are happy that you are visiting with us; let us know if you have any questions about our Catholic ministry. You are invited to worship with us. We are a small friendly, welcoming Catholic congregation. There's a place here for you too!
Finding the "right church" can feel overwhelming. As Christians - we do have choices. We too were looking, and so may we offer to you what we were looking for and then found at Sts. Peter and Paul.
We celebrate Sunday Mass in the beautiful sanctuary located at
St. Timothy's Episcopal Church, 808 N. Mason Road, Creve Coeur, MO 63141 (1/2 mile south of Olive Street Road on Mason Road).
Painting by Svitozar Nenyuk.
Used with permission of the artist.
https://fineartamerica.com/profiles/
svitozar-nenyuk.html
For directions to Sts. Peter & Paul, click on the red marker below and enter your address or current location.
Everyone is welcome to visit and worship the Father through his Son, Jesus Christ, in the love of the Holy Spirit.
Our mission is to make the unconditional love of Jesus Christ
for humankind present in our lives at all times, especially at key moments of spiritual and physical need.
We are a independent Catholic congregation, a member of the Ecumenical Catholic Church+USA, in St. Louis County, Missouri.
We invite you to visit and worship with us at the Celebration of the Holy Eucharist (Mass) with us on Sunday afternoons.
We invite all to come to the banquet table of the Lord. All baptized Christians who are honestly seeking God through Jesus Christ and his Church are welcome to receive Holy Communion at this altar.